On August 18, Apple's CEO Tim Cook celebrated the company's three-decade presence in China through a heartfelt post on Weibo. This significant milestone prompted Cook to extend his gratitude to the colleagues, customers, and partners who have played a pivotal role in Apple's journey within the region.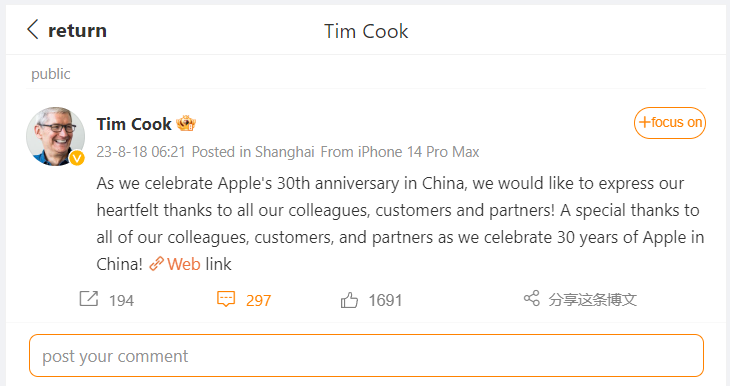 "In the span of 30 years, we've taken immense pride in serving the people of China. Through our products, services, and community initiatives, we've connected with our customers and contributed to the communities we're part of. Our commitment to enhancing the lives of Chinese consumers, fostering connections, nurturing creativity, and leaving a positive global impact remains unwavering," Cook conveyed in a corresponding press release.
To celebrate its 30th anniversary in China, the California-based company held a series of events on August 18 at Beijing's Sanlitun Apple Store, which was the first retail store it ever opened in the country. The event came alive with the appearance of renowned Chinese record producer Zhang Yadong as well as the premiere of several short films shot and edited entirely on Apple products.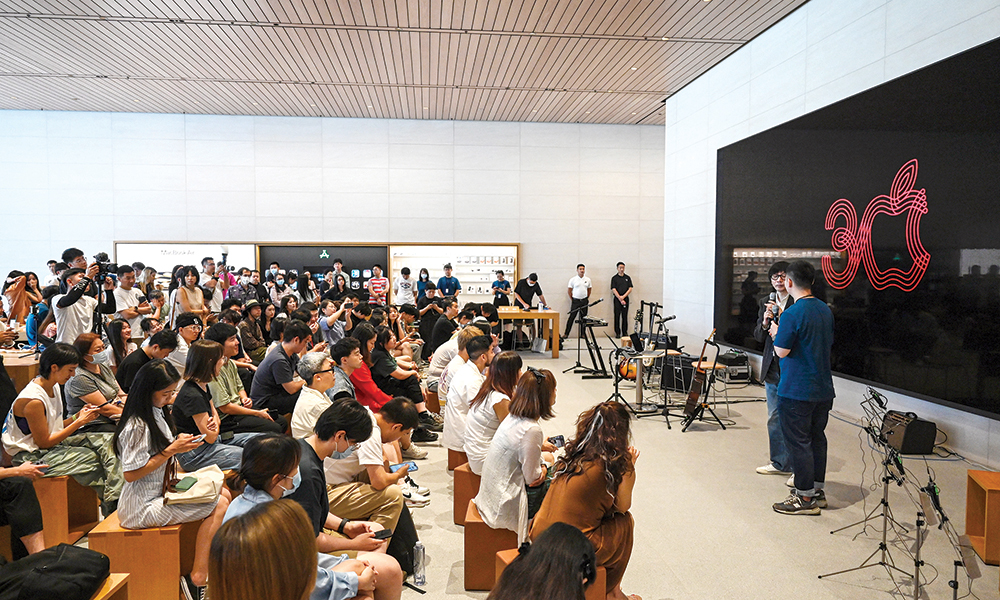 Over the past few years, Apple has achieved remarkable growth in the Chinese market. According to a comprehensive study by global consulting firm Analysis Group, in 2022 alone, the Chinese App Store ecosystem amassed nearly four trillion RMB (570 billion USD) in revenue and sales. Particularly noteworthy is the doubling of the Chinese App Store ecosystem's size between 2019 and 2022, accompanied by a 59% revenue increase for small developers from 2020 to 2022. Remarkably, 23% of new entrants to the App Store in 2022 originated from China.
Counterpoint Research further highlights Apple's substantial influence, indicating that the company has secured a commanding 20% market share in China. This achievement cements Apple's position as the dominant market leader during the first quarter of 2023, underscoring its prowess in comparison to domestic competitors like Oppo, Vivo, Honor, and Xiaomi.
Apple's venture into China first began in 1993 with the establishment of its Beijing office followed by the subsequent opening of its inaugural retail store, Apple Sanlitun, in 2008. Today, the Greater China region is home to 55 Apple retail stores, strategically located across cities such as Shanghai, Chongqing, Fuzhou, Chengdu, and Tianjin.
Join our newsletter