Chinese e-commerce giant Alibaba is expanding its presence in Spain with the rollout of its latest project: a mid-to-high-end e-commerce market called Miravia.
Unveiled to the public on December 1, the platform serves as a new fashion, beauty, food and lifestyle marketplace that connects brands, consumers and content creators within a single digital space. The e-commerce marketplace seeks to provide consumers with a unique shopping experience, giving them access to the latest trends through exclusive content created by influencers or virtual makeup testing tools.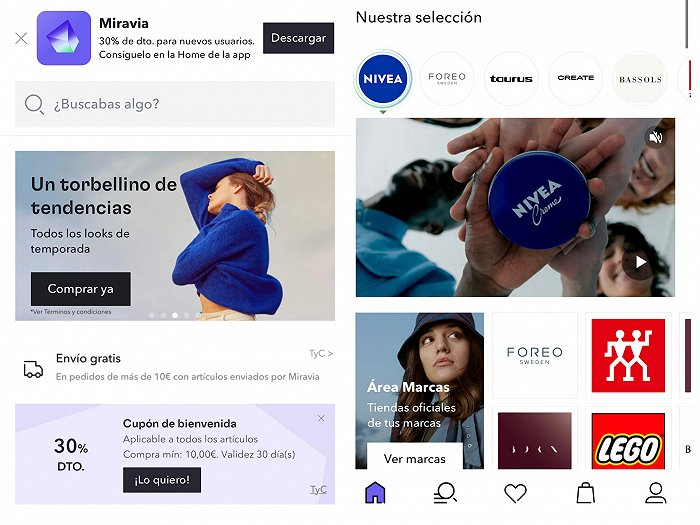 Operating independently, Miravia offers a wide variety of products from well-known domestic and foreign brands including renowned beauty brands L'Oréal Paris and Nivea. The marketplace additionally features some of the most popular up-and-coming Spanish brands created by young entrepreneurs including Born Living Yoga and sustainable shoe brand Alohas.
Alibaba's latest financial report for the third quarter of 2022 revealed a year-on-year decrease in domestic commercial revenue of 135.4 billion RMB (19 billion USD). Additionally, the e-commerce giant reported a net loss of 22.5 billion RMB (3 billion USD). At the same time, however, Alibaba's international retail revenue reached 15.7 billion RMB, a 4% year-on-year increase. As such, the overseas market has become an incredibly important avenue for the company to explore.
As the brand is still in its early stages, Miravia is doing all that it can to reel in customers and jumpstart its business. Currently, the company is providing discounts of up to 30% for new users on their first order, as well as other promotions including flash sales, free shipping for products over 10 euros and free returns within 30 days.
While Alibaba faces covid restrictions in the domestic market, opening up shop overseas may be the right move for the e-commerce giant. However, the company still faces fierce competition from rivals such as fast fashion giant Shein (which has a current valuation of 100 billion USD), ByteDance's Tiktok and even newcomer Temu, launched by Pinduoduo in September.
All things considered, however, Miravia's CEO Yann Fotaine maintains a positive outlook for the future, stating that "Spain is one of the European markets with the greatest potential in the e-commerce sector, which is a huge opportunity for a platform such as Miravia."
Join our newsletter