Hot off the heels of Adidas' recent collab with Rui Zhou, Nike has just dropped a clothing collection designed by the Fujian-born London-based menswear designer Feng Chen Wang.
Staying true to her penchant for deconstruction, Wang designed every piece to be worn in multiple different configurations and has given each piece an asymmetric or slightly off-balance feature, creating a pleasingly disruptive and futuristic effect.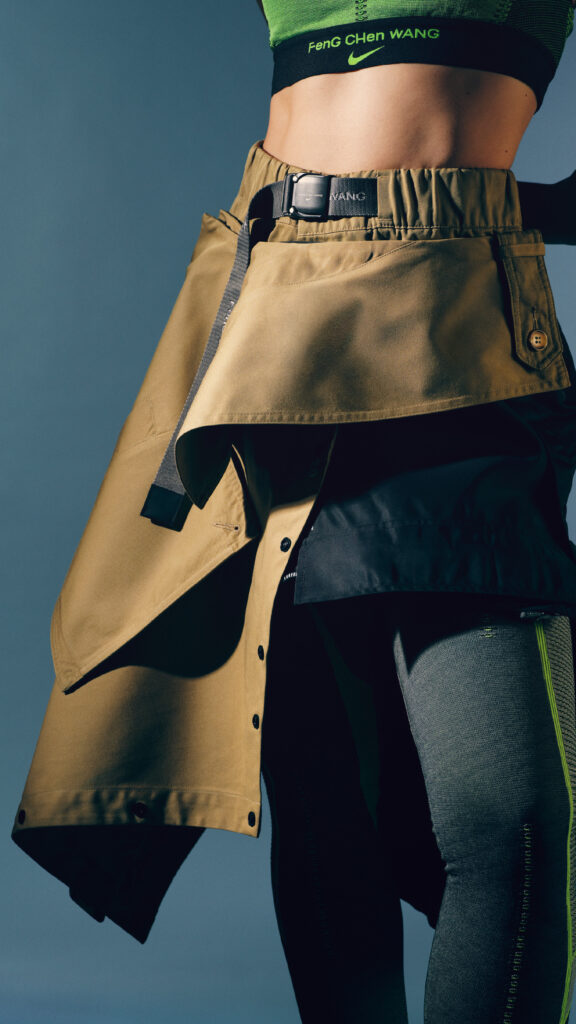 On Xiaohongsu, fashion and sports influencers are demonstrating different ways to style the "multi-dimensional" mix-and-match pieces, creating their own unique inventions along the way. The numerous styling options also promote sustainability in alignment with Wang's motto "to own less is to own more."
With the green and khaki hues and clear athleisure DNA, the collaboration has a strong gorpcore feel, but with an avant-garde twist. Bold edges and striking shapes take precedence over functionality in the designs, making for daring, customisable, and highly expressive final looks that wouldn't seem out of place on the fashion show runway.  
In a post on the Twitter-like platform Weibo, Wang told the public, "I am usually inspired by my own personal and authentic stories and feelings, the cultural environment I grew up in, and the influence of the people around me. I share Nike's desire to create more inclusive and sustainable products and this collection is a testament to that – it's designed for everyone."
"No matter what gender, age, size or athletic preference, everyone can take it apart and collage it until they find the right fit and style for themselves."
Nike hopes that collaborations with up-and-coming young Chinese designers will help propel the brand back to the forefront of China's sportswear market, which is becoming increasingly dominated by Anta and Li-Ning.
Join our newsletter