Taobao, one of China's biggest e-commerce giants, announced that Chinese stand-up comedian Li Dan has joined as a new live streamer on its platform and made his debut on 10 December. More than 10 brands including Walmart and GUCCI are reported to be in conversation with Li, looking to promote and sell their goods through live streaming sessions.
This latest performance is another example of successful live streaming in China. Prior to Li's debut on Taobao, the bilingual livestream presented by the former Chinese private tutoring giant New Oriental in June was the first to go viral on Chinese social media. This new form of live streaming offered Chinese consumers additional educational value, merging English courses on top of the entertaining side of online shopping.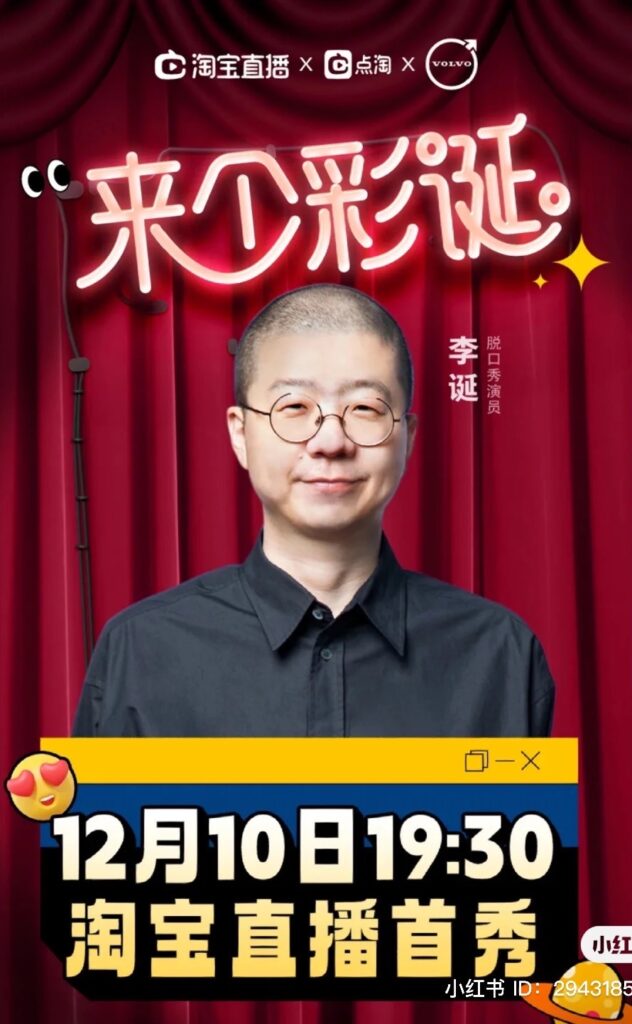 The 6-hour live stream gained more than 11 million views resulting in sales worth a total of 32 million RMB (approximately $4.6 million), and amassed 580,000 new followers to Li's account, according to data disclosed by Taobao. Many netizens commented that it was such a refreshing experience, to purchase goods online while having a laugh, due to the humour delivered through his way of presenting products. 
According to the Chinese finance media outlet Cai Lian She, the GMV of New Oriental's Douyin (Chinese TikTok) channel reached over 4.1 billion RMB ($0.69 billion), with an average daily GMV surpassing 30 million RMB ($4.3 million) for three successive months.
12 December is another year-end shopping festival, aka Double 12 in China. However, the festival this year seems rather quiet compared with previous years. The original purpose of setting up Double 12 was to divert extra traffic to help smaller businesses survive and manage redundant goods after Double 11.
However, with Double 11 e-commerce giants keeping quiet about their sales revenue for the first time this year and shopping enthusiasm cooling down amongst Chinese consumers, discussions of anti-COVID drugs are now replacing business marketing activities, as the number of infected individuals continues to grow at home.
By adopting bilingual live sessions and engaging comedian like Li, these types of selling goods is called "knowledge-based live streaming" on Chinese social media, which has been considered a new approach in the live commerce industry in a bid to deal with transformation challenges. This opens up the possibility of more comedians and English teachers becoming live streamers in the future.
Join our newsletter