Food is much more than just eating in China.
It is paramount to Chinese society and culture – socialising is centred around food, the way you serve food shows respect and there are special foods eaten during each festival.
Food also represents the huge diversity of climate, terrain, lifestyles and local culture in China.
In fact, Chinese people travel throughout the country just for food.
Every region has its own local cuisine or speciality dish – from dumplings in northern China to hand-pulled pork burgers in Shaanxi, from numbing spice in Sichuan to dim sum in Guangdong. Hungry yet?
People.cn & Tencent turn to Wuhan's speciality dish
Aware of the power of food to unite people, People.cn and Tencent launched a campaign based around Wuhan's speciality dish, hot dry noodles 热干面, in the midst of the city's virus outbreak.
The dish is sold throughout the city in street carts, restaurants and markets and is the most famous and popular breakfast food in Wuhan with a whopping 6 million bowls being consumed every day.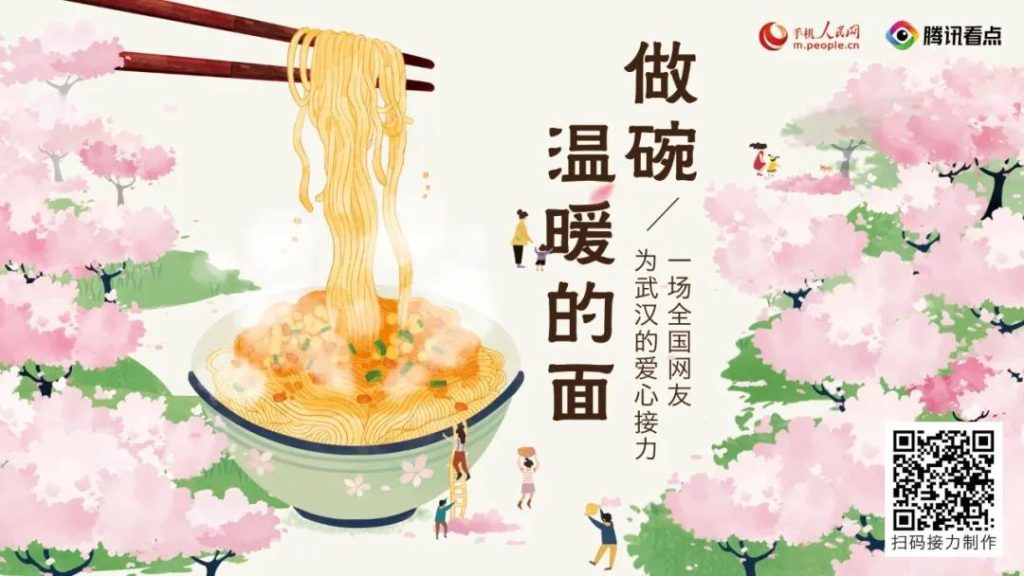 During the COVID-19 outbreak in China, hot dry noodles extended from purely being Wuhan's favourite dish to becoming deeply associated with people's memory of the city. As people across China sympathised with Wuhan's desperate situation, many reflected on their experience of Wuhan – eating hot dry noodles being one of their highlights.
People.cn, the online platform of China's largest newspaper People's Daily, and tech giant Tencent launched a campaign called "cooking a bowl of warm hot dry noodles" which encouraged all netizens to share their best wishes with Wuhan.
Memories of Wuhan united by food
People's Daily posted a series of posters on Weibo combining different regional specialities with Wuhan's noodles to symbolise the love and hope that were being sent from across China. The dishes that shared a bowl with Wuhan's famous noodles on the poster included Nanjing's salted duck, Suzhou's prawn noodles,Yangzhou's fried rice and Xuzhou's ground pot chicken.
Appealing to regional cuisine helped evoke a sense of identity among users and, united over a shared love of food, thousands of netizens participated in the campaign.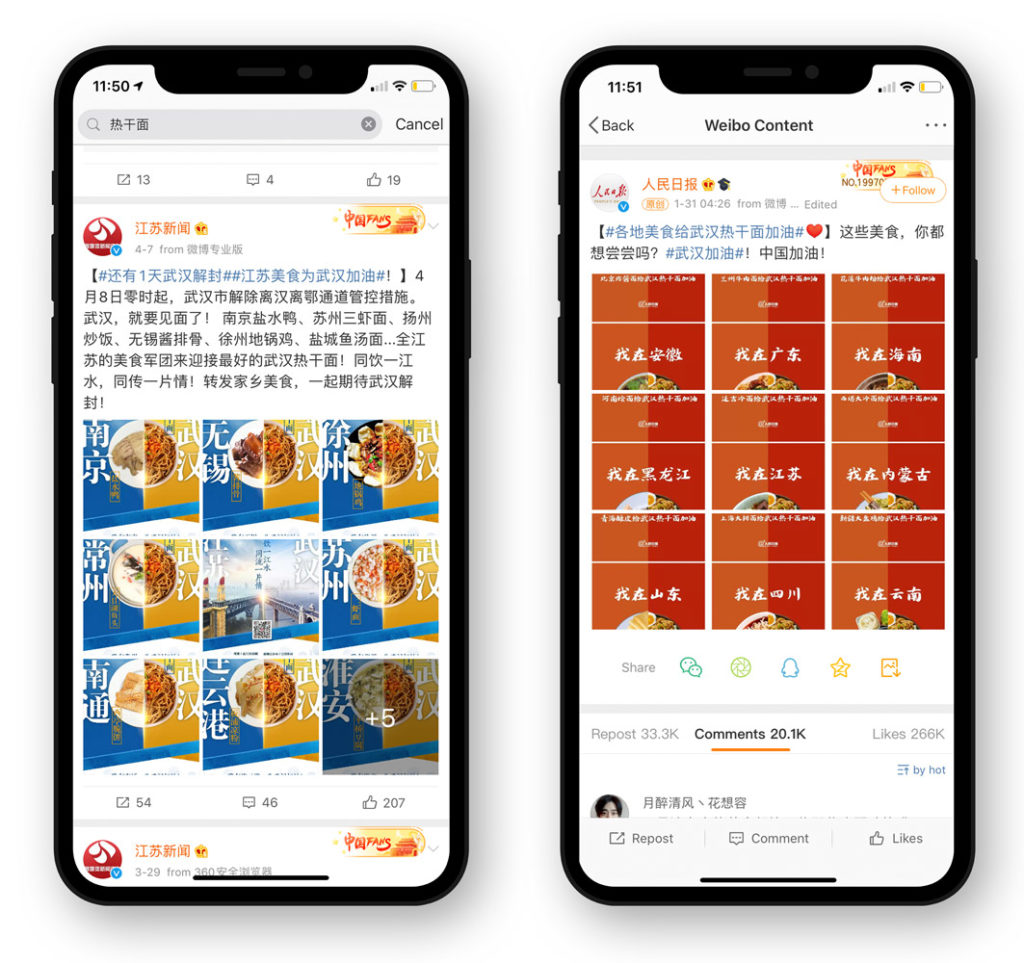 The sense of nostalgia for visiting Wuhan was enhanced by the design of the site which contained some of the city's most famous attractions in the background.
"Make noodles" for Wuhan through WeChat
The idea behind the campaign "cooking a bowl of hot dry noodles" was simple – within 10 seconds, users could "make noodles" by swiping their mobile phone screen.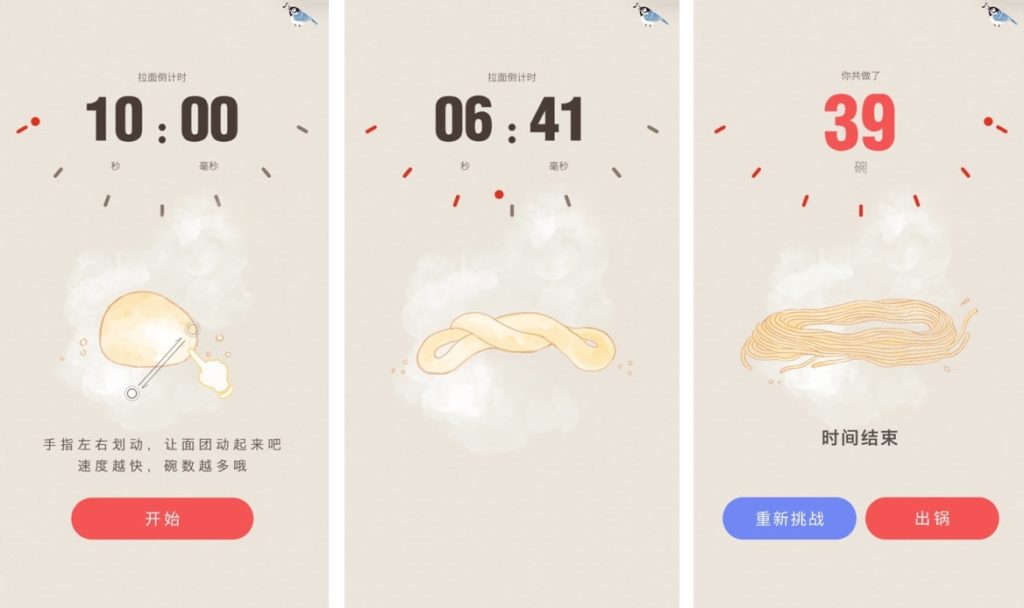 Available through WeChat, the campaign used the "H5" feature – a mobile-friendly version of a website which can be viewed through an in-app web browser and can be directly shared on WeChat Moments or Weibo, or via WeChat official accounts.
The campaign shared the whole process of how to make a bowl of Wuhan's speciality dish – tossing the hot noodles in a large chilled mixing bowl, mixing them with sesame oil and garnishing them with pickled radish, green onion and coriander leaves.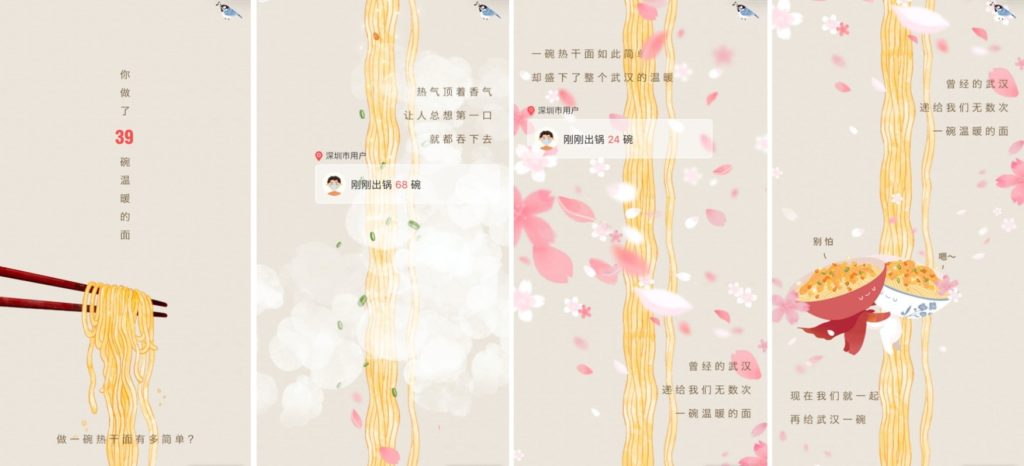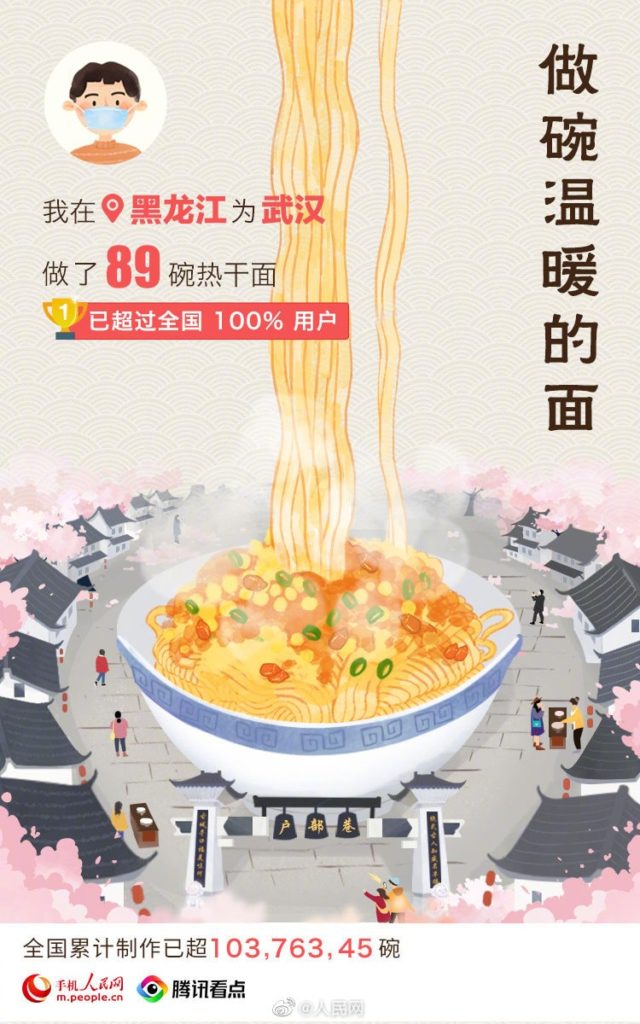 Motivation to make over 320 million bowls of noodles
On completion, the site popped up with a noodle-making certificate: "I have made XX bowls of hot noodles in XX city for Wuhan", and also showed how the individual compared to other users. This feature motivated individuals to engage with the campaign as they wanted to share the image of their high contribution with friends.
By the end of the campaign, over 320 million bowls of hot dry noodles had been made on the program.
A personalised campaign based on China's love of food
People.cn and Tencent's campaign used food to unify people in sending warm wishes and hope to Wuhan, the city worst affected by COVID-19 in China. The posters and "cooking a bowl of hot dry noodles" feature created a sense of nostalgia for Wuhan and its famous hot dry noodles.
By combining China's food culture with a sense of achievement of "doing good" for Wuhan, the campaign was widely shared with friends and received high engagement. As shown by "cooking a bowl of hot dry noodles", creating a personalised image that can be shared with friends (such as through the "H5" feature which allows users to easily share within WeChat) can help a campaign to become widely circulated.