Last year, the red heart-themed limited-edition gift boxes introduced by the French luxury brand Yves Saint Laurent, created a buzz on Chinese social media during Valentine's Day, with the campaign hashtag page #RedValentine'sDay# hitting 310 million views on China's biggest microblogging site Weibo.
Following that success, this year, with the romantic day just around the corner, YSL has already stroke another chord in China by retrieving the gift box from last year; that includes anything from "Pure Shots" to "Le Cushion Encre de Peau" foundation and the infamous fragrance of freedom "Libre". While offers might seem largely the same as last year, more efforts have been distributed to leveling up the treatments for such offers and naturally, YSL has recognised the success of 2021 Valentine's Day, using that to spur this year's product line.
Both JD.com and Taobao, China's two biggest e-commerce platforms, have been embedded into the brand's campaign page on Weibo. Moreover, to maximise the impact of JD.com's Super Brand Day (a day brands introduce special offers in partnership with the platform), YSL collaborated with the Chinese singer Jike Junyi for a live streaming event, where it brought the brand's five most popular items on top of freebies, including movie tickets for lovers.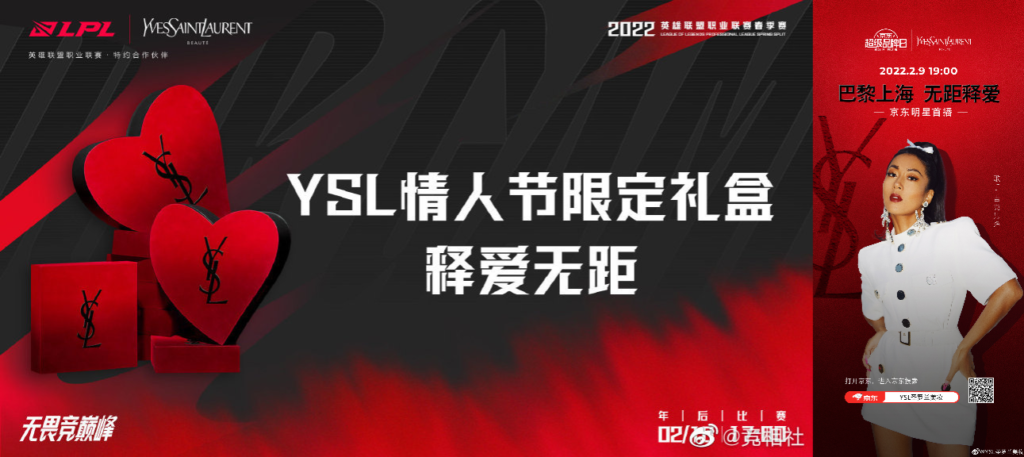 These efforts have not only diversified the content with a clearer product display but also allows YSL to leverage the user base of the two major online retail platforms and the online influence of the singer. As a result, the brand has seen many of its products dedicated to Valentine's Day sold out while others are in high demand, showing their clear understanding of the Chinese market.
The campaign has also drawn some extra attention with its special partnership with League of Legends Pro (LPL, the top-level professional league for League of Legends – the hit video game owned by the Chinese tech giant Tencent). The tie-up comes timely, as the LPL Spring Split reconvenes from 10 February, and as such the consumer base is naturally growing currently. The move would allow the brand to tap into China's lucrative market of video gaming, while further capitalising on the hype towards the thriving trend during the competitive season.
Read more:
Join our newsletter