Whilst Li Jiaqi, the country's top online salesman for cosmetic products seems to have had a monopoly on China's live streaming sales to date, the recent debut of a virtual beauty live streamer, Xiaomei on JD.com serves as a reminder that the battle is not yet over.
The AI host made her first appearance on one of China's e-commerce giants on 28 February, selling products for over 20 internationally renowned cosmetic brands on JD.com's 'Beauty Products Super Day', including Kiehl's, OLAY, L'Oreal, and YSL.
This third generation of intelligent Meta-human appears as a young woman in her mid-20s. Unlike human live streamers, the AI broadcaster's enthusiasm never dries up and can host live streaming sessions 24 hours a day. This aspect alone would make the virtual streamer a preferable option in the future live streaming industry.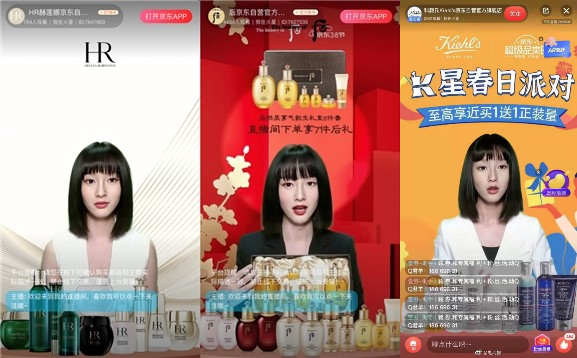 Xiaomei's debut performance has also cleared up any doubt amongst the public around the digital saleswoman's ability to introduce products and to make a sale as convincingly as a human counterpart. The extremely realistic look and voice, and even tones have made viewers forget the fact they are watching a virtual presenter. Her thorough knowledge of beauty and dealing with real-time questions are professional enough to unnerve human live streamers.
In fact, virtual live streamers seem to have emerged as a new digital battleground in China. As early as last November, Kuaishou, a Chinese short video app, introduced its own virtual host "Guan Xiaofang". Following suit was Alibaba, who created a digital host named "Dong Dong" (or 'Double Winter' in English, a nod to the Winter Olympics) with the main role of selling Winter Olympics merchandise online during the international sports event.
These efforts, on one hand, are made to avoid negative impacts of human live streamers on both brands and platforms in the wake of the fall of the country's once top live streamers including Viya and Xueli, who were found to have evaded taxes. Meanwhile, such practice also provides a gateway for players in the live streaming industry to tap into the digital hype of Metaverse, where virtual beings can be a ticket to the much-craved realm.
With more AI salespeople joining the live streaming sessions, it remains to be seen how long the "Lipstick King" can hold his dominant position in this industry.
Join our newsletter