In association with makeup brand M-Joptim 魔介, Hurun Research Institute released a list of "The Richest Women in China 2020" on November 27.
39 year-old Huiyan Yang topped the list for the fourth consecutive year with a net worth of 225 billion RMB, a 50 billion RMB increase from last year. Yang is the Co-Chairwoman and majority shareholder of real estate firm Country Garden Holdings. However, despite ranking first, her wealth was only just over half (57%) of that of Alibaba's founder Jack Ma who is the richest man in China. Nonetheless, the average wealth of the top 10 richest women in China increased by 91% this year to 101.9 billion RMB.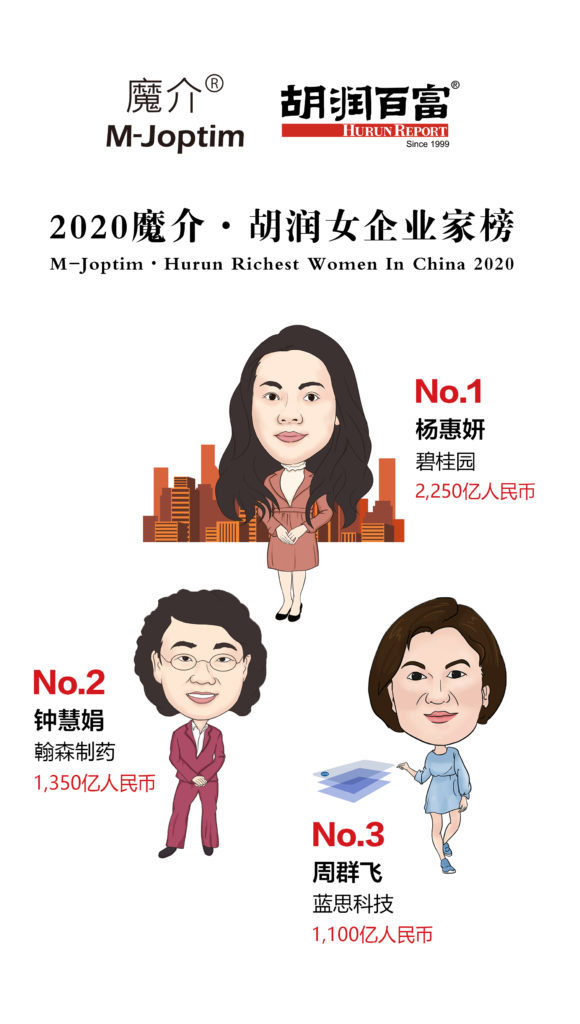 Huijuan Zhong who runs pharma platform Hansoh ranked second with a net worth of 135 billion RMB, followed by Yajun Wu who is a major player in China's real estate industry and is the richest self-made woman in China in 2020. Half of the women in Hurun's top ten listing work in the real estate industry.
Read more: Hurun report celebrates China's top entrepreneurs under 30
Join our newsletter