From one basic styling T-shirt to being valued at $2 billion, Everlane made its way to become a successful American clothing online retailer, with three physical stores in the U.S. In its fifth year of operation, Everlane's sales increased to over $100 million. However, just around two years since entering the Chinese market, this ambitious brand announced a temporary shut-down of its online store in China.
In the announcement, Everlane expressed its intention to build a global customer community, where services are provided with consistency. This is part of the adjustment to its global strategy and layout, in order to cope with the unprecedented disruption brought on by the pandemic. Everlane has stated to close its flagship store on Tmall on 12 September and stop providing after-sales services from 10 October.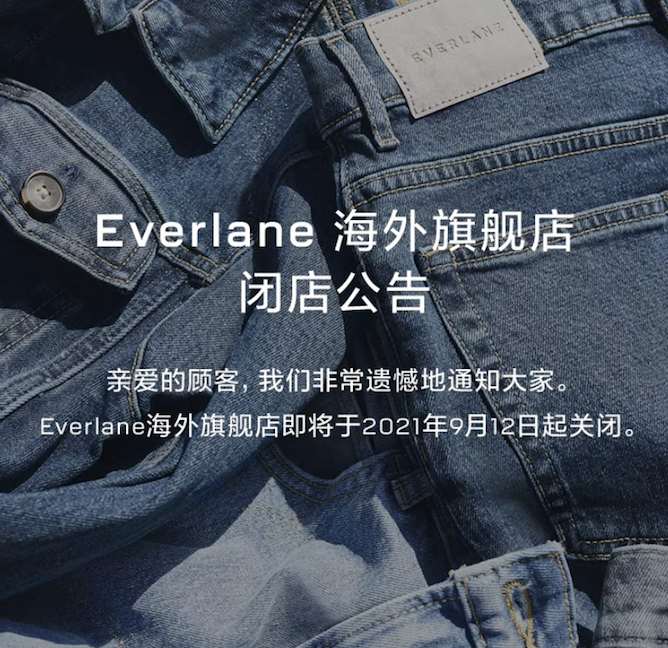 Everlane markets its products as "stay in fashion for 10 years" and is featured for basic styling. Its unique selling point is the campaign of "Choose What You Pay". Depending on whether you want to pay for the company's operational or development costs, you have three options of price to pay for each item in the store. The cheapest price is about 70% of the original. In China, its basic T-shirt is priced around 156 RMB ($24) and a pair of jeans at 600 RMB ($93).
Everlane is also one of the firsts in making fashion sustainable. By April, it has successfully replaced 90% of disposable plastics with recycled materials in its supply chain. Despite inspiring performance in the American market, Everlane is not well recognised by Chinese consumers. In two years, Everlane's Tmall store has only got 533,000 followers. Its only product with a monthly sale of over 200, is a tote bag priced at 1219 RMB.
" Most of its products are made in China. And it does not have a unique style."

a Chinese clothes designer said
Everlane's journey to sustainability and high-quality fashion has not always been successful even outside of China. The controversy in its failure in tracing its carbon footprint and the layoffs during the pandemic have left a question mark on its brand's prospect.
When and how to make a comeback? Perhaps this question is to be answered not just in the Chinese market.
Read more:
Join our newsletter