The national non-public organisation, Alibaba Foundation has tapped into the digital dimension by releasing 24,000 NFT pieces of wildlife animals in China's Foping County on 9 February, aiming to raise public awareness about endangered species protection and contribute to the development of the local economy.
Alibaba Foundation joined forces with the local Ministry of Culture, rolling out a series of NFT pieces on e-commerce platform Taobao featuring 4 local endangered species inhabitants in Foping County with a giant panda, Snub-nosed monkey, Takin and Crested ibis included. Foping County sits in the south Shaanxi province and is well-known for its well-preserved primitive forest communities and rare animal species.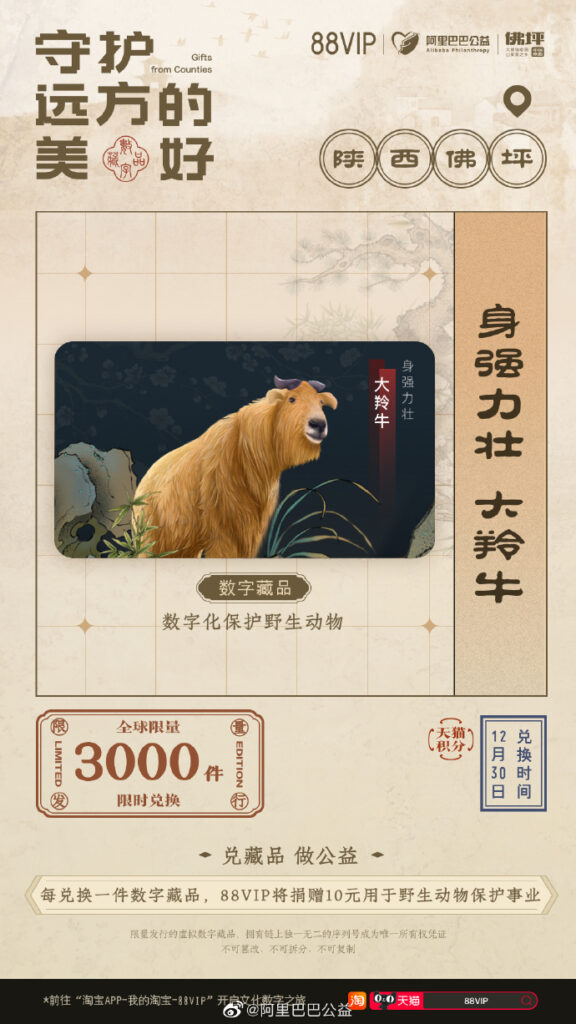 By integrating the adorable animal images with traditional, realistic Chinese painting styles, the NFTs sold out within just a few days after being released. Apart from the NFT project, Alibaba Foundation is determined to create a giant panda IP (intellectual property) in collaboration with the local government to branch out to a wider audience, given that their hilarious antics once caused an internet sensation in China.
It comes as no surprise that the Alibaba Foundation has combined wild animal protection with digital assets, as the concept is now the world's hottest buzzword and in favour of the young demographics.
Along with China's encouraging attitude towards the digital assets industry by launching its first state-backed marketplace on 1 January, many charitable organisations have capitalised on the growing trend by attempting to eliminate the boundary between technology and public services. For example, the recently released NFTs by Shanghai United Foundation was in a bid to leverage public awareness towards the health issues of kids living in rural areas.
Overall, by tapping into the ongoing NFT sensation, Alibaba Foundation has not only effectively achieved its endangered species protection purpose with a technological twist, but also showcased the immense opportunities brought by the Metaverse concept.
Join our newsletter