What's the first thing you see every morning? A view of a luxurious beach resort? A smiling photo with friends or family? A hilarious cat meme?
After fumbling to switch off your alarm, your phone's wallpaper is most likely what flashes before your eyes. It will pass your sight frequently throughout the day as mobile phone users unlock their phones 80 times daily on average.
Wallpapers wow Weibo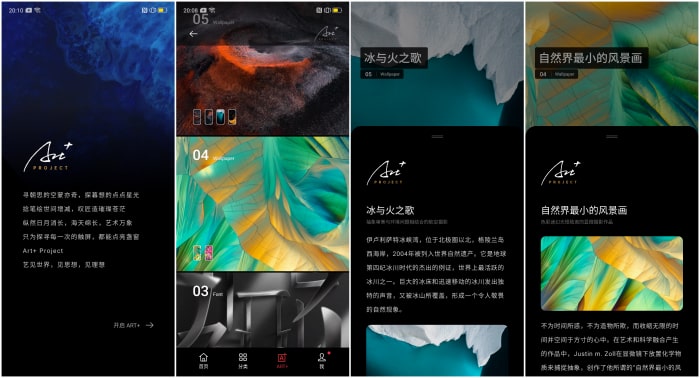 As a result of having to constantly view their phone background, Chinese mobile users have decided that they do not want a generic image as their wallpaper. The hashtag of "mobile wallpaper" hit 3 billion views on Weibo and the question of "what are the best wallpapers for a mobile?" got 60 million views and 7,200 replies, with the most popular answer receiving 220,000 likes. This online engagement shows that people are bored of having a plain, stock image as their background.
OPPO launches artistic wallpapers
Electronics and mobile communications company OPPO decided to jump on the trend of wallpapers with the launch of their ART+ project. OPPO was the top smartphone brand in China in 2019 and ranked 5th globally. Along with offering a range of artistic mobile wallpapers, OPPO has also produced unique fonts and ringtones to enhance user experience and differentiate their products from other mobile phone manufacturers.
Available on the V7.0. version of their theme store, ART+ project showcases a range of backgrounds created by artists worldwide. The images focus on unique artistic styles and are aesthetically pleasing in their use of colour and textures.
The following three examples give a taste of the wallpapers on offer and the thought put into creating these phone backgrounds:
Justin m. Zoll: The Smallest Landscape Painting In Nature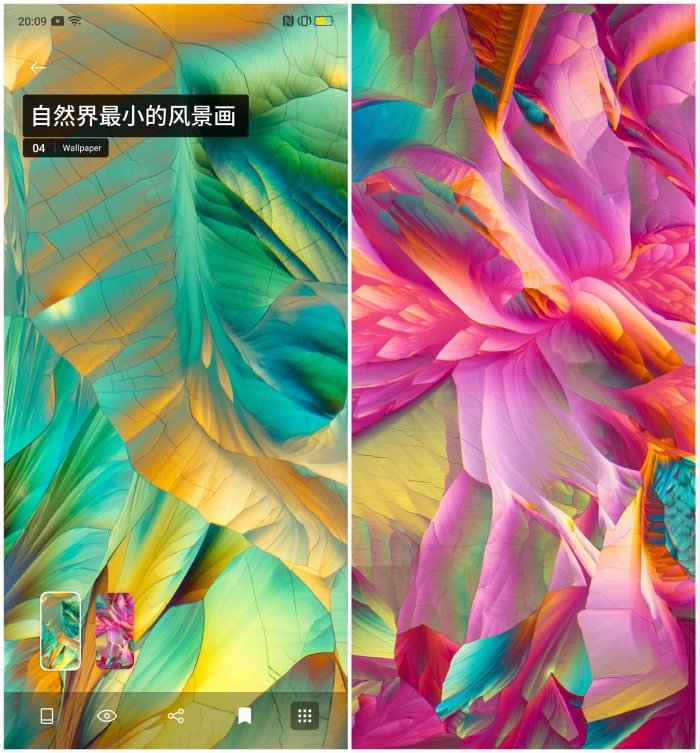 If you don't have a microscope, you will never be able to appreciate the microorganisms invisible to the human eye. However, Justin m. Zoll's work aims to do just that. A photographer from New York, he uses professional microscopic equipment and photography skills to present the structure and colour of chemical substances as abstract artistic images.
The Beauty of Cultural Relics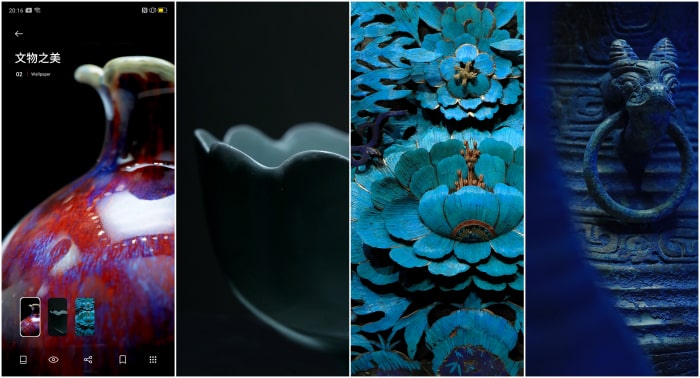 Appreciating Chinese culture through the push of a button. OPPO invited a photographer who is a specialist in cultural relics to show off China's rich history through a collection of photographs. They document a range of objects from different periods of Chinese history.
Sun Jianxing, Sun Li: One Colour Produces A Thousand Colours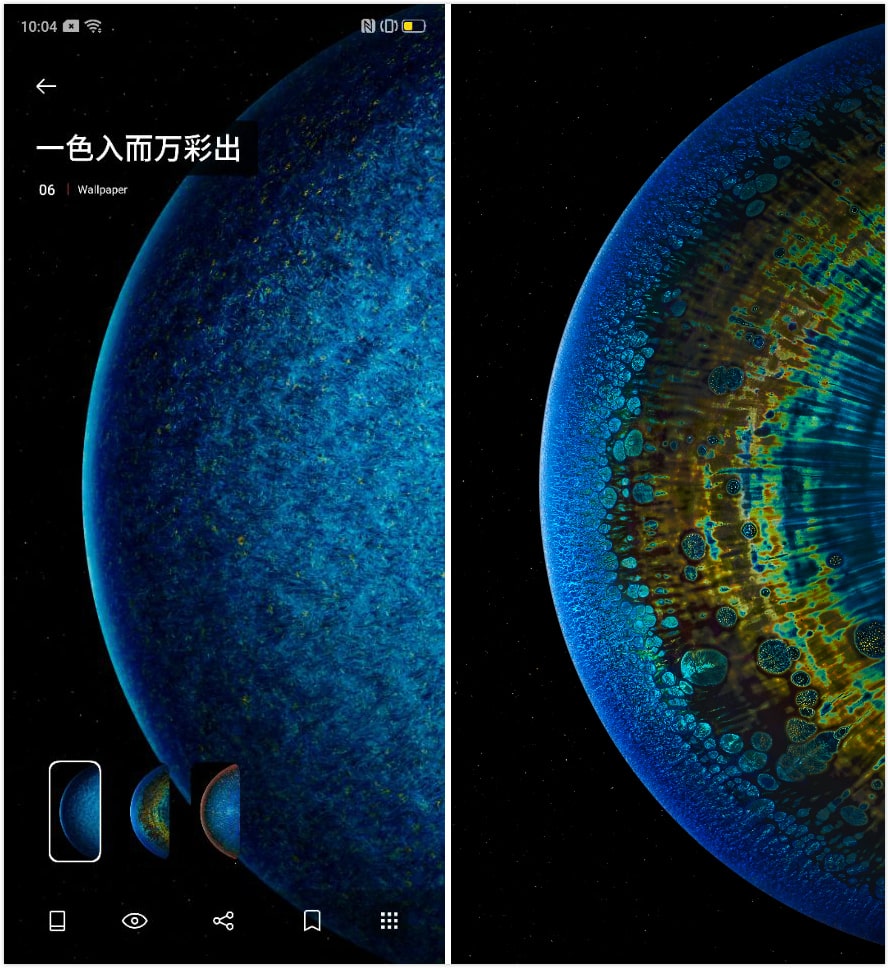 Masters in Chinese ceramics, Sun Jianxing and her daughter, Sun Li, bring you their craftsmanship in the series "one colour produces a thousand colours". Their technique is based on a style dating back to the Song Dynasty where workers used the same material to craft a range of bowls using different techniques and types of kilns. The collection highlights the beauty created through their unique ceramics artwork style.
More than just a phone wallpaper
Apart from offering eye-catching phone wallpapers, the campaign also aimed to connect people with art and help users open their eyes to their surroundings. The accompanying campaign to promote the ART+ project highlighted the stories behind the images and encouraged discussion about the images on social media through the topic "ART+ see the world". The project gained high user engagement through the creation of an artist personality test and online interaction with figures from the art world, Chinese influencers and celebrities.
"ART+ see the world"- engaging with artists and KOLs online
The project was promoted on social media through the "ART+ see the world" hashtag which gained 20 million views and 8,000 comments on Weibo.
Short-form video and pictures were used to share how the mobile wallpapers were created and explain the stories behind them.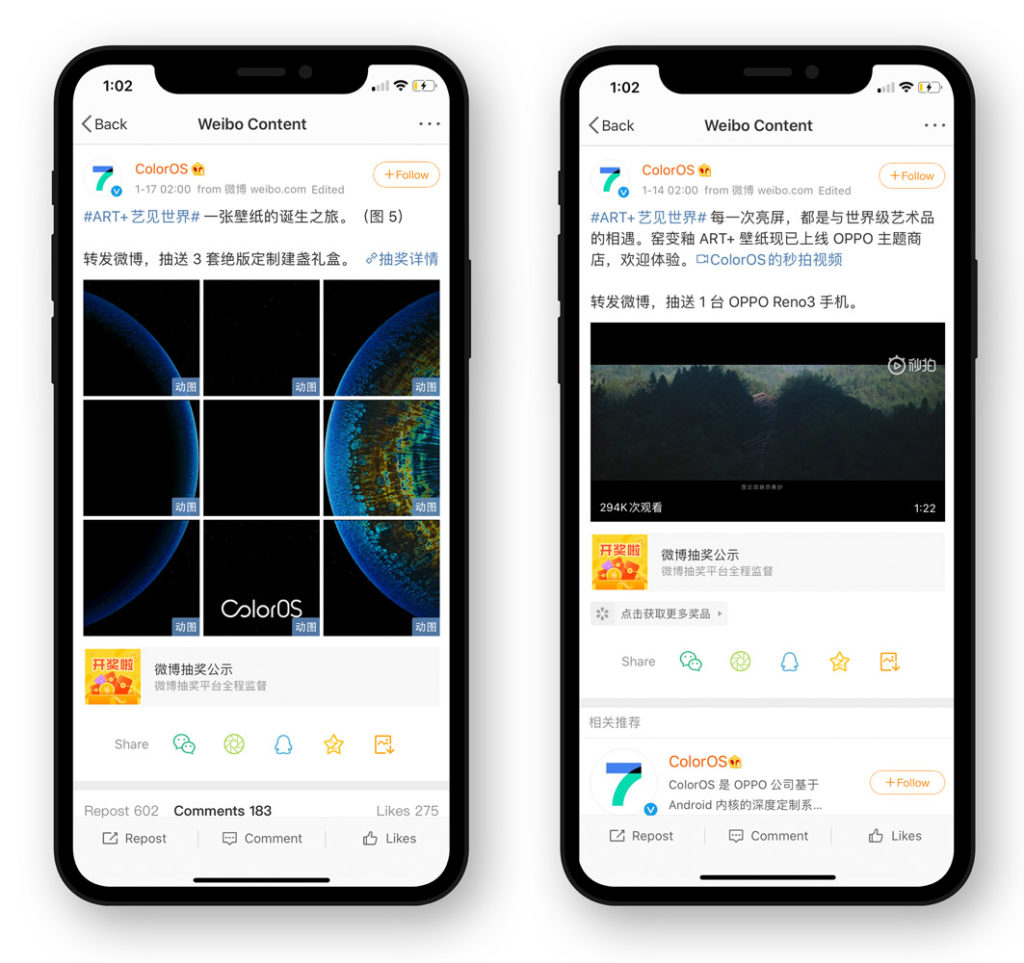 Engagement with the project was boosted by the many artists, photographers, designers, fashion bloggers and KOLs who posted about "ART+ see the world" on Weibo and WeChat and recommended it to their followers. InsDaily, a fashion and art-based WeChat official account, received 270,000 views on a single WeChat article promoting "ART+ project".
Which artist personality are you?
An artist personality test also featured on OPPO's WeChat H5 page (H5 is the version of websites opened through WeChat's in-app web browser which have been shared either through official accounts or WeChat Moments). Based on selecting different art scenarios, users were able to find out their art personality and share it with friends via WeChat Moments. This feature was very popular with users and helped to enhance engagement.
OPPO also collected these phone wallpapers for an online art exhibition as part of their mission of connecting users with the world to art.
OPPO's unique, multidimensional campaign
OPPO shows that paying attention to popular trends on Chinese social media platforms is key. As the first large mobile manufacturer to create an original collection of wallpapers, they were able to develop user engagement and brand awareness. Pairing their creative images with a social media campaign, engagement with the art community and KOLs and creating a popular WeChat H5 page resulted in it being a successful campaign.
Take a look at your phone background – do you know the story behind it?
Brand: OPPO
Agency: Linksus 灵思云途 广州