China is celebrating the 100th anniversary of the founding of the Chinese Communist Party (CCP) today with a number of events taking place around the country.
On the morning of 1 July, a large-scale celebration was held in Beijing's Tiananmen Square with more than 70,000 people in attendance. As well as military fly-pasts, salutes and patriotic performances, Chinese President Xi Jinping also delivered a speech in which he highlighted the role of the CCP in developing modern-day China.
"Looking back on the path we have travelled and forward to the journey that lies ahead, it is certain that with the firm leadership of the Party and the great unity of the Chinese people of all ethnic groups, we will achieve the goal of building a great modern socialist country in all respects and fulfil the Chinese Dream of national rejuvenation."

Chinese President Xi Jinping
President Xi also reflected on the history and progress of China, and gave a firm warning to foreign powers:
In other celebrations, a performance called "The Great Journey" took place at the Olympic Bird's Nest stadium in Beijing on Monday. Performers explored the party's history through dance and song. Celebratory light and drone shows have also taken place in Shanghai and Shenzhen.
In the run-up to the anniversary, there has also been a booming 'red tourism' industry as many Chinese people seek to explore the Party and its history via travel.
All social media platforms have also received a special revamp for the event with the landing pages of Weibo, Douyin, Bilibili, Tencent, Xiaohongshu, and Douban including references to the anniversary. Social media feeds are dominated by individuals and brands sharing posts celebrating the anniversary and expressing their pride in being Chinese. Many Chinese companies have created branded anniversary pictures to share on social media. The hashtag "#CCP was founded 100 years ago" (#中国共产党成立100周年) hit 7.1 billion views on Weibo.
"Our biggest pride is the people who live in this country. We are always protected by the bravest people. I feel lucky to be Chinese and, as a nation, we will be stronger in the future."

Comment from a Weibo users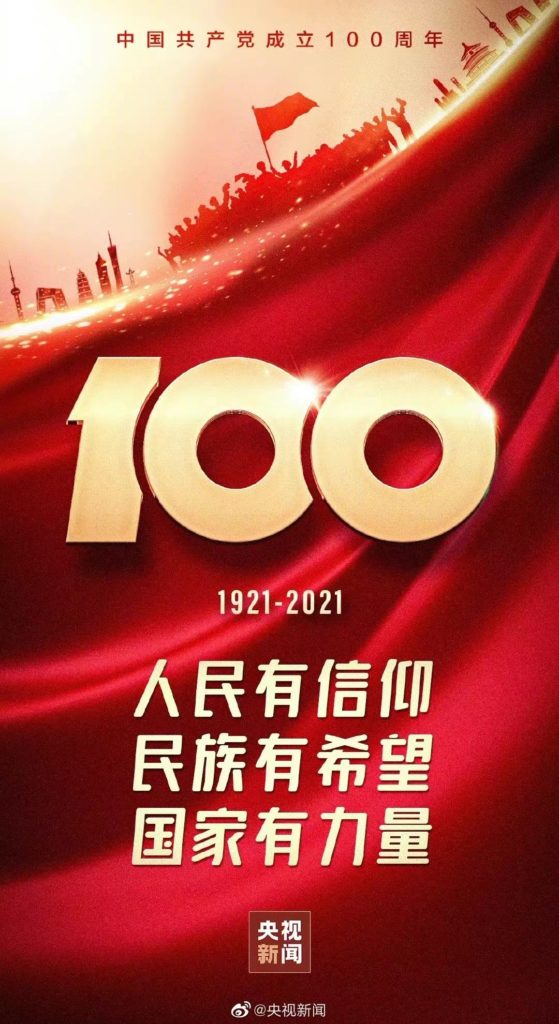 In his speech, Xi also announced the country reaching its first centenary goal of "building a moderately prosperous society in all respects". State-media Xinhua News posted the news on Twitter and received a response from Elon Musk. The CEO of automaker Tesla, which has recently been facing challenges in China, responded to Xinhua's post saying: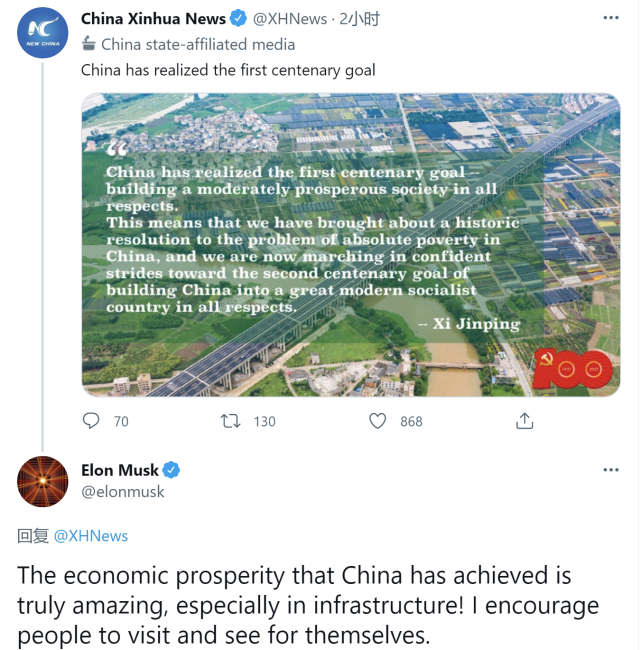 Read more:
Join our newsletter