Event agenda
Date: 16/06/2022
Time: 4:15-6:30 presentation 6:30-8:00 networking
Location: The Office Group – The Stanley Building, 7 King's Blvd, London, N1C 4AG
Get 20% off for an early bird ticket by using the promotional code: GenZ20 before 22 May.
Event description
China's Gen Z has witnessed the country's rise in the global economy. This rising group has innate confidence that has brought newfound changes to the way brands interact with consumers in China. They are the most important growth driver for both domestic and international brands as they will shape the future of China's retail industry.
For brands looking to strengthen their foothold in China, it is crucial to understand Gen Z's unique characteristics and create personalised digital experiences that foster brand loyalty and remain relevant to them.
Join Qumin's BYOB event to capture the hearts of China's Gen Z, the most diverse, influential, and ambitious generation of young people.
It is a must-attend event for brands attempting to understand and reach the ever-changing younger demographic.
What to expect and why you should attend
The very latest trends, uncovering the cultural, social, and digital changes that are revolutionising the future attitudes and habits of Chinese young consumers
Learn how to build bespoke digital experiences that connect your brand with the savvy consumers through data integration
Hear directly from a diverse mix of young people and uncover how you can authentically engage them
Meet other China marketing professionals and exchange ideas on how to best drive your brand's Gen Z marketing campaigns
Receive real-time feedback from a panel discussion
This event is jointly hosted by Qumin, an award-winning top 5 creative agency in the UK, and ChatLabs, the leading China digital experience provider.
Previous attendees from Qumin's BYOB event have included
Cartier, Chanel, Chopard, Dalmore, Hakkasan Group, Jimmy Choo, Selfridges, Sotheby's, University of Nottingham, Newcastle United FC, Leeds University, LS:N, Glenn Spiro
Why should you trust Qumin and Chatlabs?
Qumin knows from experience how to make Chinese Gen Z fall in love with your brands. As experts in Chinese marketing, Qumin's approach has been tried and tested by clients such as Marriott International, Papa John's, TikTok, Harrods, Heathrow Airport, Eurostar, Chinatown London, Tencent, and Whyte and Mackay.
ChatLabs builds digital solutions that equip international brands in China to create bespoke experiences that convert followers. Partnered with Tencent and Salesforce, ChatLabs is able to create data-driven journeys to take your Gen Z users from marketing to e-commerce and service with a PIPL-compliant data solution.
Here is the deal
You BYOB (bring your own brand), and we take you through:
16:15 -16:25 Welcome: Meet & Greet at The Office Group – The Stanley Building
16:25-17:10 Keynote: Qumin (Arnold) – Culture + Social: The secrets to engaging China's most influential generation (40min+5min Q&A)
What subcultures matter to Chinese Gen Z in 2022 and beyond? What is the best social media channel to reach the young generation? This consumer group has transformed the way they consume content and are rewriting the rules of how brands can take part.
With the award-winning marketing campaign that Qumin did for Marriott International, you will learn how to build an authentic connection with your target audience, fuelling you with native social content to drive advocacy and action. Qumin will also share experience and strategies of how they built their media asset with 1 million+ followers, including Douyin's No.1 fashion account.
17:10-17:55 Keynote: ChatLabs (Michel) – Data + Tech: How to create data-driven personalised experiences and leverage social commerce to drive conversion and retain the hearts of these digital-natives (40min+5min Q&A)
As digital natives from a mobile-first country, China's Gen Z has the highest expectations from a brand's online presence. They demand consistent experiences, fast services, exclusive offers, and most importantly, a personal connection with brands. How can international brands meet their needs? By creating personal digital experiences through data integration from Chinese digital channels to global CRM and marketing innovations in creating journeys that convert and build loyalty.
17:55-18:00 Break
18:00-18:30 Panel discussion – Case study sharing – marketing campaigns that successfully targeted China's Gen Z
Speakers will share the secrets of how to win over Gen Z audience, the marketing campaigns that are making an impact in China and the channels that are helping them connect with this demographic.
18:30-20:00 Networking
Enjoy free food (sharing boards and Chinese snacks), and alcoholic drinks (3 drinks per person).
Connect with inspirational marketing & digital leaders and industry experts.
About speakers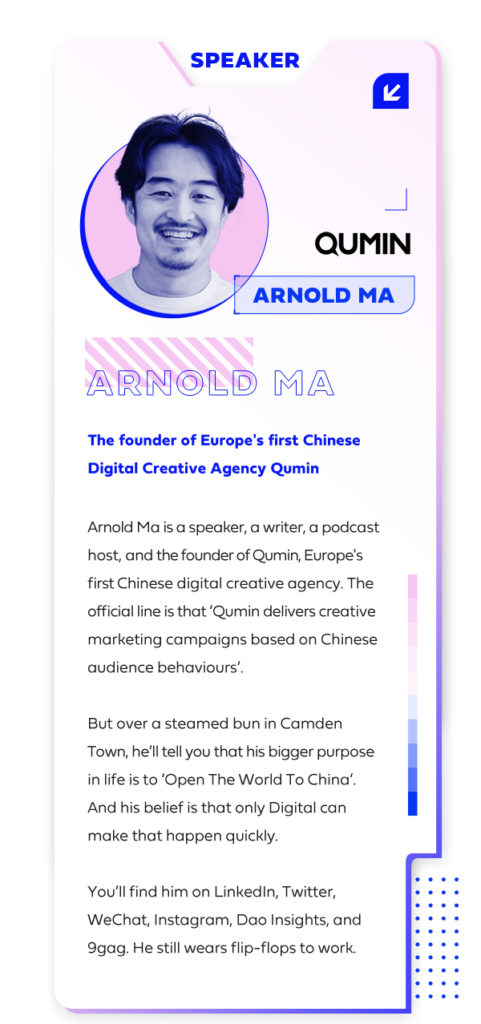 Arnold Ma, the founder of Europe's first Chinese Digital Creative Agency Qumin
Arnold Ma is a speaker, a writer, a podcast host, and the founder of Qumin, Europe's first Chinese digital creative agency. The official line is that 'Qumin delivers creative marketing campaigns based on Chinese audience behaviours'.
​But over a steamed bun in Camden Town, he'll tell you that his bigger purpose in life is to 'Open The World To China,' and his belief is that only Digital can make that happen quickly.
​You'll find him on LinkedIn, Twitter, WeChat, Instagram, Dao Insights, and 9gag. He still wears flip-flops to work.
Michel Tjoeng, the SVP of Sales & Marketing at the leading China digital experience provider ChatLabs
Michel is an energetic, creative, and experienced e-commerce and digital marketing professional with 20 years of digital experience across agencies, start-ups, consulting firms, and major consumer brands. Most recently, Michel was the Global Head of Digital at De Beers, where he led a digital transformation as well as increased digital engagement with consumers in China on WeChat and Tmall.
You can find him on LinkedIn.